Grethe's Personal History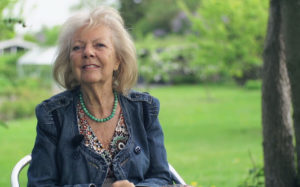 In the early 1980's my late husband Rolf Havsboel and I began combining our knowledge and experience in specialized kinesiology, developed by John Thie DC, Sheldon Deal DC, Wayne Topping PhD, and John Barton, with the principles of esoteric psychology and the science of the subtle energies. During the next many years we developed the Transformational Kinesiology (TK).
The beginning TK workshops led the way to more advanced TK workshops constituting the unique TK-Synthesis. When Rolf died in 2012, I decided to continue to research, develop and teach TK through Coaching programs, retreats, meditations and the latest developments in TK-Optimal Integration, TK Astrology and the new web-program entitled Bridging.
Worldwide through workshops and lectures we have inspired thousands of like-minded clients, students and friends, cultivating inner peace and clarity to follow the deepest longing of our hearts, becoming our True Self and taking Inner Leadership.
As a child I had great goals to live an interesting, exciting and full life. I decided 'when I grew' up that: I will not worry/I will not be sad /I will not be poor/I will not live a boring 9 am to 4 pm' life. However as it turned out…that is exactly what I did – all of it! Life is a school!
My more conscious goal-oriented journey began in 1981 when I met Rolf and we initiated our special cooperation. Together, we studied kinesiology and became instructor trainers for Denmark in several different kinesiology branches. We then joined the international kinesiology community.
In the mid eighties I became critically ill. Professional and alternative methods of healing did not solve my problem so Rolf and I began to experiment. We discovered that my physical problem could be balanced from an energetic level. Problems stemming from the physical, emotional and mental levels could be addressed by going to a higher level of consciousness – ultimately from the spiritual level. This was a tremendous breakthrough to be able to do goal-oriented work with the entire human system using kinesiology as a tool.
Our greatest understanding from all this was
…the higher heals the lower
This discovery and my immediate healing became the stepping stone to a deeper focus and conscious engagement with the spiritual development – the Path of the Soul in a vital, healthy body.
We based our further research on the 7 Cosmic Energies – the Great 7 Cosmic Rays in combination with the vital (energy) body, the chakra system and the auric field. We worked with hundreds of clients and had another breakthrough discovering that –
Permanent healing happens only when a change of consciousness takes place
Among other things we changed the general way of 'setting', 'wanting' or achieving' goals and began to set goals as Commands from our Heart-mind to our personality and use every problem as a reminder that life leads us to our next conscious step.
On our road we met and were inspired by wonderful teachers who worked with the conscious development of the humans. We deepened our studies in esoteric literature influenced by the works of Alice A. Bailey, Torkom Saraydarian, David Tansley DC, Grace Cooke … among many others.
The latest development in my psycho-energetic work is the Bridging Program. This program combines energy anatomy and esoteric psychology through easy, dynamic moving meditations, power words and visualizations.
When one of these exercises is being used on a daily basis with a Command we are building a healthy, strong constitution to live as an Observer of our own life, able to see things as they are and contribute in a given situation in a way that works for all – coming from the Heart-mind.
Info
Mail: adm@polariscentret.dk
Phone: +45 4640 6650
CVR: 19478343
Address
Polaris Centret
Kyndeløse Strandvej 22
4070 Kirke Hyllinge / Denmark
Office
Tuesday and Thursday 10.00 - 15.00 h.